MODERN PSİKİYATRİ TARİHİMİZDE ÖNEMLİ BİR İSİM: Dr. LUIGI MONGERI
AN IMPORTANT FIGURE IN OUR HISTORY OF MODERN PSYCHIATRY: Dr. LUIGI MONGERI
Dr. Luigi Mongeri, 16 Kasım 1815'te Milano'da doğar, felsefe eğitiminin ardından Lombardia'daki Pavia Üniversitesi'nde tıp eğitimini tamamlar. İstanbul'a yerleşmesinin ardından 1856 yılında Süleymaniye Bimarhanesi'nin (Akıl Hastanesi) başhekimi olur. Bu tarihten sonra Türkiye'de ruh hastalarının koşulları önemli ölçüde değişir. 4 Haziran 1859 yılında Necla Taylor adında bir İngiliz ile evlenen Dr. Luigi Mongeri'nin bu evlilikten Federico, Elena, Giuseppe, Mary, Alfredo, Luigi ve Giulio isimlerinde yedi çocuğu olur.

Dr. Luigi Mongeri was born in Milan on the 16th of November 1815. After studying philosophy, he received his medical education in the University of Pavia in Lombardy. After settling in Istanbul, he became physician-in-chief of the Suleymaniye Bimarhanesi (Mental Hospital) in 1856. As of this date, the treatment conditions of mental patients changed drastically. Dr. Luigi Mongeri married an English woman named Tecla Taylor on the 4th of June 1859, and had seven children, Federico, Elena, Giuseppe, Mary, Alfredo, Luigi and Giulio from this mariage.

İTALYA'DAN İSTANBUL'A UZANAN BİR YAŞAM
A LIFE JOURNEY FROM ITALY TO ISTANBUL
İstanbul'da doğan Mimar Giulio Mongeri'nin yaşam öyküsü babası Dr. Luigi Mongeri'nin (1815-1882) İtalya'daki siyasi sorunlar nedeniyle 1839 yılında ülkesinden ayrılması ile başlar. İzmir ve Girit'te görev yaptıktan sonra 1850 yılında İstanbul'a yerleşen Dr. Luigi Mongeri, Abdülmecit döneminde Osmanlı sarayında görev alır ve daha sonra gerçekleştirdiği çalışmalar ile Türkiye'de modern psikiyatrinin doğuşu ve kurumsallaşmasında önemli bir rol oynar. Dr. Luigi Mongeri'nin İstanbul'a yerleşmesinden sonra, o ve kendisinden sonra gelen aile üyeleri gerek tıp gerek mimari alanda Türkiye topraklarına önemli çalışmalara imza atar, dönemin kültür ve sanat hayatında etkili bir yer edinirler.

The life story of architect Giulio Mongeri, from Italy to Istanbul, begins with the departure of Dr. Luigi Mongeri (1815 - 1882), father of Giulio Mongeri, from his country in 1839 due to political problems in Italy. After working in Izmit and Girit, settled in Istanbul in 1850, Dr. Luigi Mongeri started working for Ottoman court during the reign of Abdulmecid, and then played an important role in the birth and institutionalization of modern psychiatry in Turkey. After Dr.Luigi Mongeri's arrival in Istanbul, both he and his descendants produced important works in the fields of medicine and architecture in Turkey, gaining an influential position in the cultural and artistic life of the time.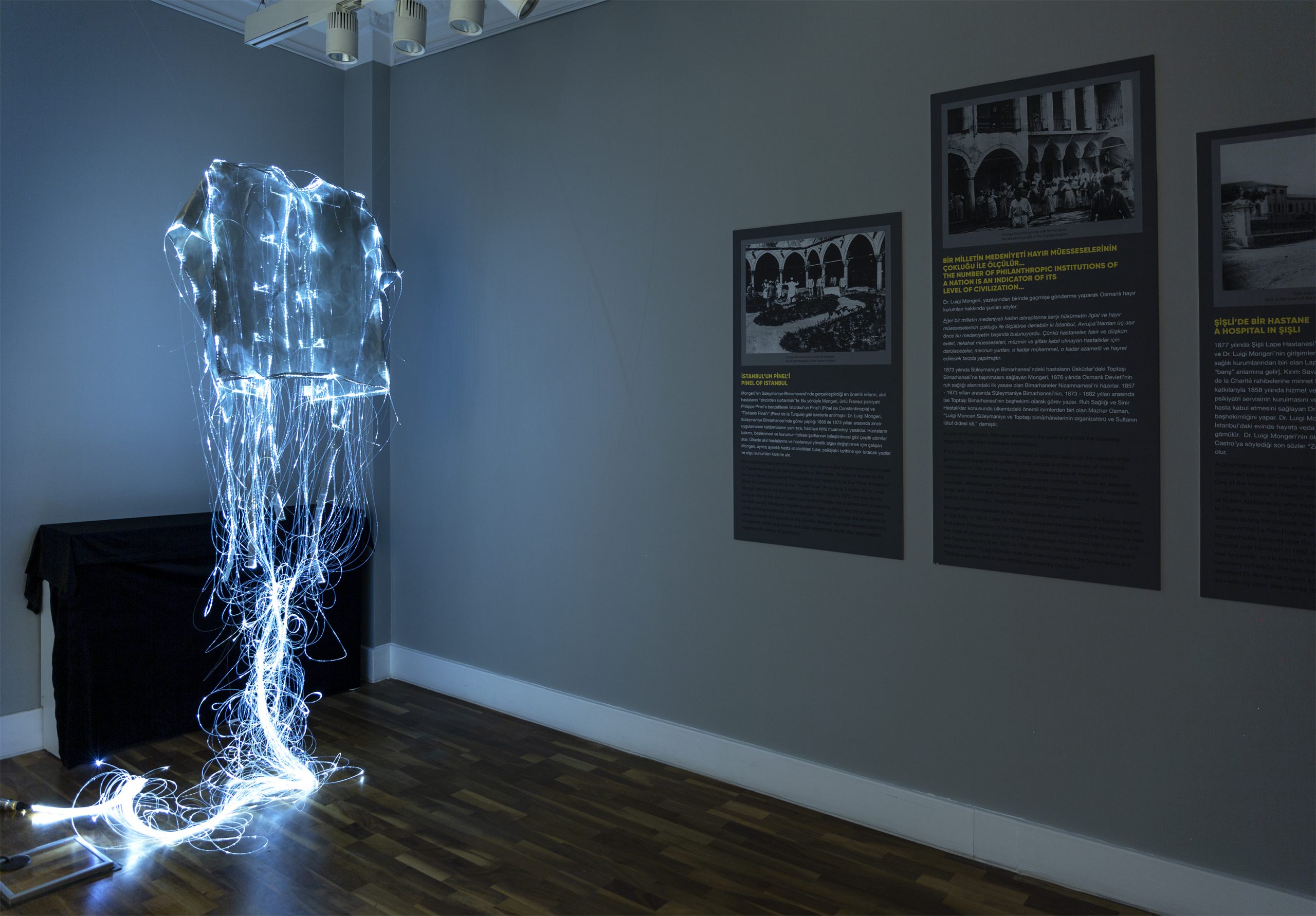 SIRADAKI ODA/
Next Room
Dr. Luigi Mongeri
Öncekı oda / Previous Room
Siradaki oda / Next Room
Ana sayfa / main page